Cosmetic Dentist Beverly Hills, CA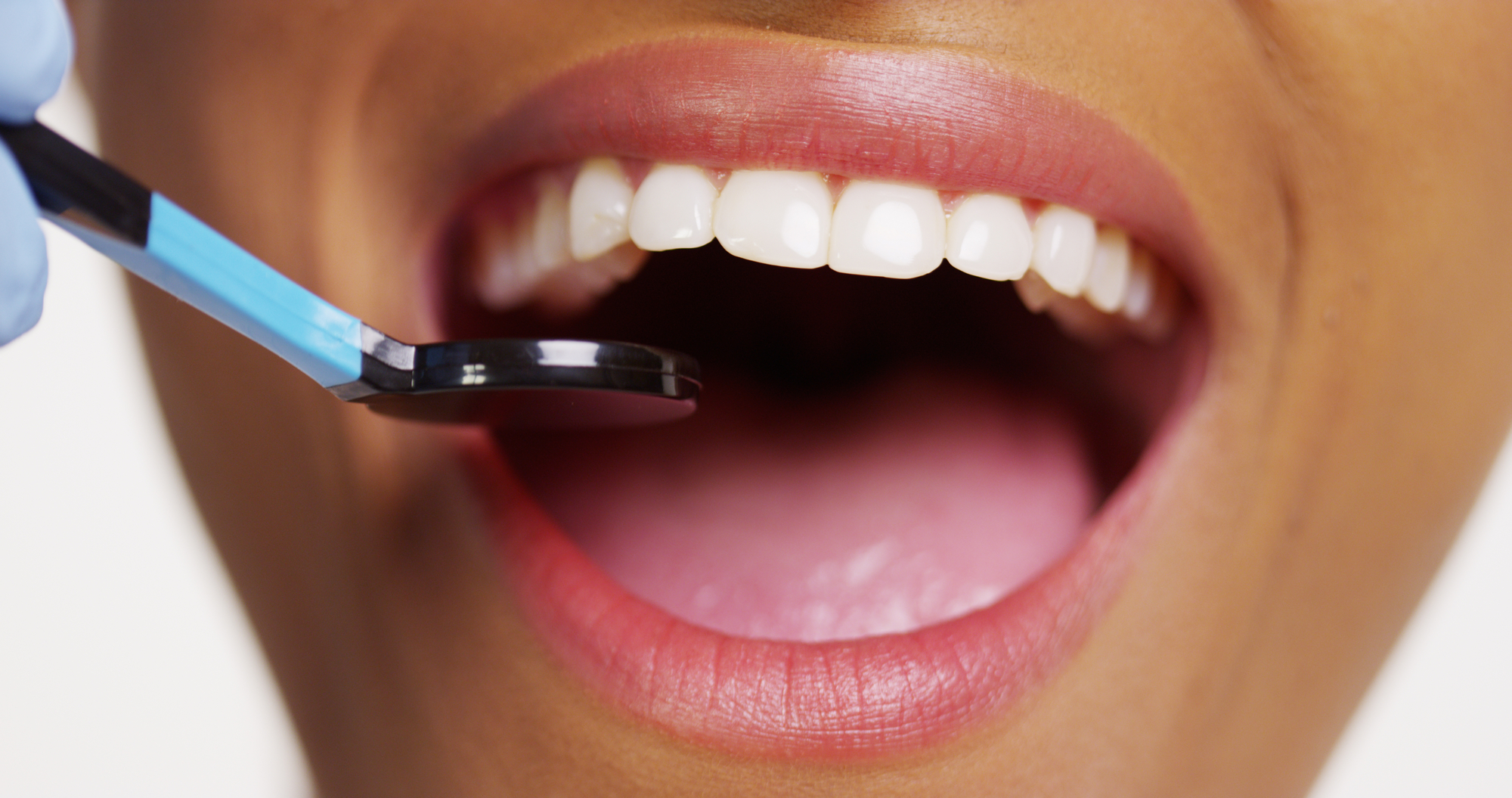 If you're not happy with the look of your smile, you may benefit from seeing a cosmetic dentist in Beverly Hills, CA. This type of dentist focuses on enhancing the appearance of your teeth and gums. Common cosmetic dentistry procedures include veneers, crowns, and teeth whitening.  Here are several signs that you may need cosmetic dentistry.
Now, while brushing and flossing are essential to strong dental health, there is more to taking care of one's health, than doing the bare minimum.  One of the most important aspects, when it comes to important and essential dental health, is doing checkups for dental health every year.  What this would aid in doing, is that an individual would have a better understanding, as to why teeth issues are developing. 
---
---
Examples of this include whether their teeth are lined up properly, why the coloration of one's teeth may be fading, whether there may be any cavities forming and why they may be experiencing teeth or gum pain, and more. 
Beverly Hills Cosmetic Dentist
Several Signs That You May Need Cosmetic Dentistry
You Have Crooked Smile
A straight smile is considered very attractive in today's society. If your teeth are misaligned, you may feel self-conscious about your smile. The good news is that you don't have to wear traditional metal braces to correct your smile. You can opt for Invisalign braces, which are clear aligners that gradually straighten your teeth. No one will even know that you're wearing them. On the topic of a crooked smile, there is also the issue of lockjaw as well, which can happen when someone's jaw may be out of place and get occasionally locked, due to one's teeth eroding and/or not being properly aligned. These are some factors to take into consideration when it comes to aspects pertaining to dental health.  Moreover, one of the reasons why dental health is important is because when one does not get checkups yearly, there can be teeth issues that end up unknowingly or knowingly developing, which may be more difficult to get rid of overtime if one does not get an issue resolved quickly.  An example of this could pertain to deteriorating teeth, teeth issues that are causing lockjaw, overbite problems, getting braces that are needed to straighten one's teeth, and more.  These are some factors to take into consideration.
Your Teeth Are Of Various Shapes and Sizes
Ideally, all of your teeth should be symmetrical. If they are different sizes and shapes, you may feel insecure. A cosmetic dentist can use different procedures, such as porcelain veneers and bonding, to reshape and resize your teeth.
You Have Chipped or Cracked Teeth
Whether it's due to excessive teeth grinding or eating certain foods, chipped and cracked teeth can negatively affect the appearance of your smile. They also can also make your teeth more vulnerable to decay. Cosmetic dental treatments, like bonding, veneers, and crowns, can correct chipped and cracked teeth.
You Have Stained Teeth
A white smile is certainly desirable. However, if you frequently consume dark-colored beverages and foods, like coffee and red wine, your teeth may become stained over time. Luckily, a cosmetic dentist in Beverly Hills, CA can whiten your teeth, giving them a brighter and more attractive appearance.
You Have a Gummy Smile
A gummy smile refers to a smile that shows too much of your gum line. It can make you feel self-conscious about your smile. Luckily, a cosmetic dentist can correct this issue by performing gum contouring. If you want to elongate your teeth, your dentist can use veneers.
You Have Missing Teeth
Missing teeth don't just affect the appearance of your smile. They can also make it more difficult to chew food and speak clearly. If you have lost one or more of your teeth, you have the option of getting dental implants. These implants are surgically placed into your jawbone and look and feel like your natural teeth.

Beverly Hills Cosmetic Dentist Infographic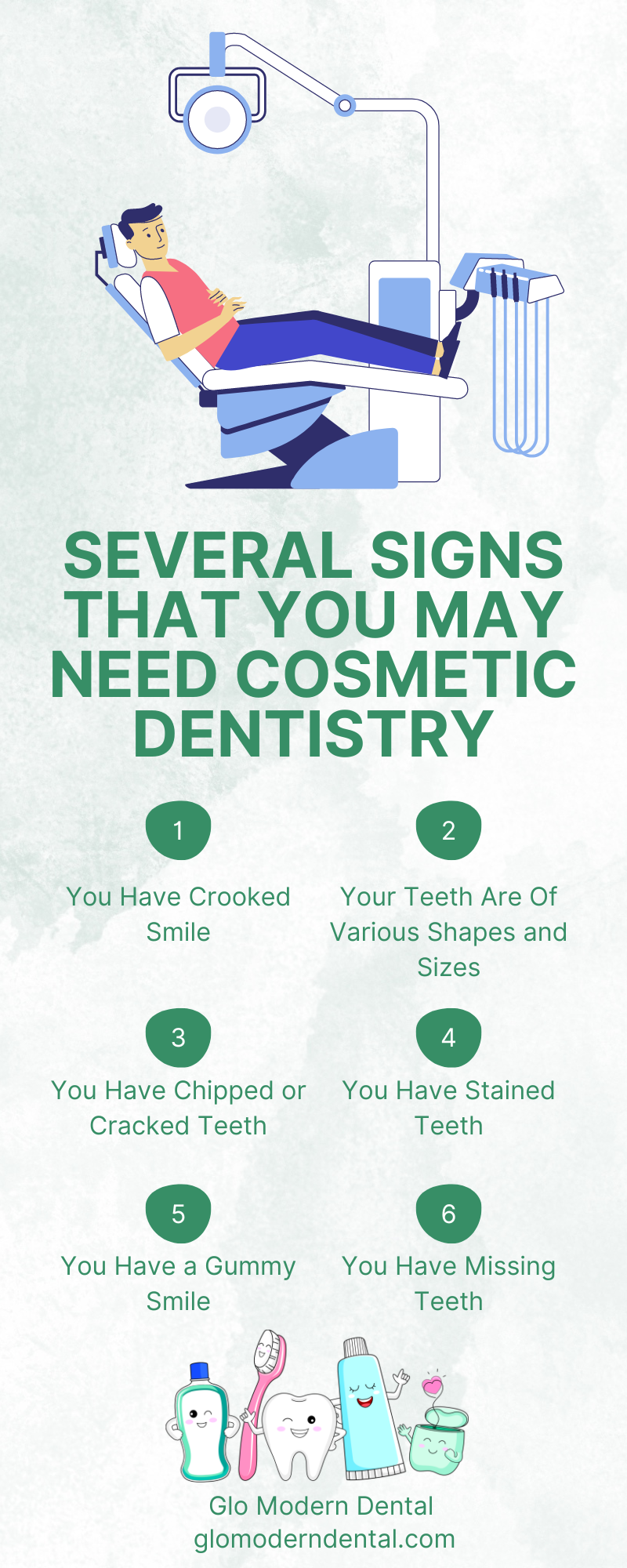 Here's How a Dental Bridge Can Restore Your Smile
A dental bridge is one of the most popular methods a cosmetic dentist Beverly Hills, CA trusts may use to restore your smile – and your self-esteem. They're oftentimes talked about, and if you've heard them mentioned in passing, you may be wondering what a dental bridge entails. You're not alone. Read on to get some much-needed answers about dental bridges, provided by the professionals at TruGLO Modern Dental.
What is a Dental Bridge?
A dental bridge is a means of filling in gaps between your teeth. In plain english, a bridge is a false tooth, permanently placed between other teeth. They "bridge" gaps that have been left behind by missing natural teeth – hence the name.
Wait, so They're Just Dentures?
Dentures may seem like an effective solution to gaps in your smile, but you have to remember that unlike bridges, dentures aren't permanent. You'll also need to remove dentures whenever you want to eat, and keep them clean every night. Depending on your age, dentures may seem totally out of the question, as well. A 20-something-year-old using dentures? Not if we can help it.
How Do Dental Bridges Work?
A dental bridge is technically multiple false teeth, because in order to attach a bridge, your Beverly Hills cosmetic dentist will have to file down the adjacent teeth to prepare for the permanent insertion of the bridge. They're held in place by a number of methods, but it's important to remember that the teeth on either side of the gap are just as important as the gap itself.
What are the Different Types of Dental Bridges?
Not all dental bridges are the same. For example, if you want to bridge a gap but there's only a supporting tooth on one side, you'll need what's called a cantilever bridge. In other cases, your specialist may recommend using implant-supported bridges, in which you receive special surgical implants to serve as a standalone base for each false tooth.
What Does the Procedure Look Like?
The procedure for dental bridges takes several steps. First, a dentist will take an x-ray of your mouth to ensure there's no tooth decay or underlying gum disease. Once the x-ray is completed, (and there's no problems preventing proceeding) your dentist will take all the necessary measurements of your mouth and teeth for your bridge.
If you've elected to receive a traditional bridge instead of implants, the dentist will then file down the teeth on either side of your gap to prepare for the bridge. Once all this is complete, you'll get a new bridge, and your dentist will cement it in place. On the other hand, if you've elected to receive implant-supported bridges, you'll need to under go two separate surgeries: one to attach the implant, and another to permanently affix the new bridge.
Don't Give Up on Your Smile. Get in Touch Today.
At TruGLO Modern Dental, we know there's a lot in life worth smiling for. Get in touch with us today to learn more about dental bridges, and see how a Beverly Hills cosmetic dentist from our office can help restore your smile today.

Cosmetic Dentistry and Dental Implants 
There are many reasons you may be considering dental implants. You may also be wondering if it is worth finding a good cosmetic dentist or if you should seek out help from your regular dentist. The truth is, a cosmetic dentist will be concerned about the health of your teeth, the functionality of the procedure they are doing, as well as whether the end result looks good. If you have missing teeth, we understand that this will not only impact how you perceive yourself, but it can make everyday tasks difficult or more painful. Dental implants are little titanium posts that your cosmetic dentist will place in the area where your missing tooth roots are. Once the posts are in, your dentist can then safely attach a porcelain crown. These will be a placeholder until your dentist can permanently crown your teeth. Below, you will find some quick information about what you can expect with dental implant procedures and the outcome. 
The Pain level.

When it comes to the pain level of getting dental implants, you may find that it is not nearly as painful as you expected. Your dentist will likely recommend that you ice the area and that you take over-the-counter pain medication to help with any discomfort. 
The number of implants.

You might be concerned that you will need to wait a long time because you have more than one tooth missing. This can be stressful when you are hoping to have your smile sooner rather than later. However, if you have more than one tooth missing or all of your teeth missing, your cosmetic dentist can create an entire denture for all of your missing teeth or for just a few missing teeth. 
The expense of implants.

You may be wondering what to expect when it comes to paying for your implants. Dental implants can be more expensive upfront but they typically last much longer than other procedures for tooth replacement. Speak with your dentist about what your insurance covers and payment options. 
The Safety level.

As with any kind of cosmetic dental procedure, you likely want to know whether the procedure is going to be safe. Overall, dental implants are considered safe and your body would be unable to reject the implant since it does not have any living cells in it. Although it is possible to get an infection from a dental implant, this is very uncommon. 
The care of implants.

When you go through a surgical procedure and spend money out-of-pocket, you want to know that you are doing everything you can to take care of your dental implants. While your dentist will go over procedures with you, you should treat your implants like you would any other tooth. Floss, brush, and go to your regular dental checkups every year. If you start noticing gum irritation or inflammation around your dental implant, speak with your dentist about this. 
Getting dental implants can completely change your life. If you would like to speak with our cosmetic dentist about getting dental implants, reach out to our office now. 

Beverly Hills Cosmetic Dentist Statistics
A survey conducted by the American Academy of Cosmetic Dentistry (AACD) reveals the most common reason why patients seek out cosmetic treatments:
To improve their self-esteem/physical appearance – 86 percent
For health and/or restorative reasons – 46 percent
To look and feel younger – 45 percent
Upcoming events – 48 percent
Beverly Hills Cosmetic Dentist FAQs
Who Can I Turn To When I Want Cosmetic Dentistry Procedures?
When you are hoping to improve the health and look of your smile, look no further than Glo Modern Dental. We take great pride in ensuring our patients have the smiles they have always hoped for and give them practical ways of maintaining their smiles between appointments. If you are interested in learning more about the procedures we offer, give our office a call. We can't wait to hear from you!  Call our Beverly Hills cosmetic dentist for more information on the smile of your dreams. 
How Is A Cosmetic Dentist Any Different Than A Regular Dentist? 
This is a great question and the differences can feel quite nuanced. It is important to understand that both lines of dentistry are aimed at providing you with a healthy smile. However, your cosmetic dentist will also be aimed at giving you a smile that is beautiful. You may be interested in different cosmetic procedures, such as implants, contouring or reshaping, or veneers. A cosmetic dentist will be highly trained in these types of procedures to give you the smile of your dreams. Your cosmetic dentist will go above and beyond to maintain your teeth's health. 
What If I Want A Procedure But I Do Not Know If It Is Right For Me? 
You should never get a dental procedure done without your dentist approving it and ensuring that it is the right move for you. For example, you may have teeth that are decaying and you are unsure of what to do. Your Beverly Hills cosmetic dentist will give you a thorough exam and provide you with options that are safe for your mouth while showing you how they can transform your smile. 
I Have Used At-Home Teeth Whitening Products For Years But It Never Does Much. What Are My Options? 
Your cosmetic dentist is available to go over the different options with you. They would want to look at different aspects of your dental health–including your overall health–to determine if you would be a good candidate for teeth whitening. To be a good candidate for teeth whitening, you need to maintain your daily oral hygiene, get regular dental checkups, have a need for whitening (i.e., have discolored teeth) and have the wish to improve your smile in this manner. Your dentist can go over the side effects that can come with teeth whitening, including increased tooth sensitivity or gum irritation. 

Glo Modern Dental Beverly Hills Cosmetic Dentist
Beverly Hills Cosmetic Dentist Google Review
"I just got the most incredible veneers from her office! She's incredible! From the moment I walked in I feel very comfortable meeting with doctor Rhonda wow she made me very comfortable and I know I was with the right doctor the staff is amazing as she is. I am a very picky person the rooms are clean and very modern. I am going to look beautiful do not hate me." – Jouliet R.
Learn More About Glo Modern Dental Cosmetic Dentistry
When you are interested in fixing your smile, you may be wondering who you can talk to. You visit your dentist regularly and have good checkups, but perhaps you are looking for more. This could mean you want your teeth a few shades whiter, you want them straighter, or you are even looking into getting veneers. Whatever your question is regarding cosmetic dentistry, our Beverly Hills cosmetic dentist is here to help. Read on if you would like to learn more about cosmetic dentistry and what our team can do for you. 
If you have a cosmetic dental issue, contact a cosmetic dentist in Beverly Hills, CA from Glo Modern Dental today.