Dentist Hollywood, CA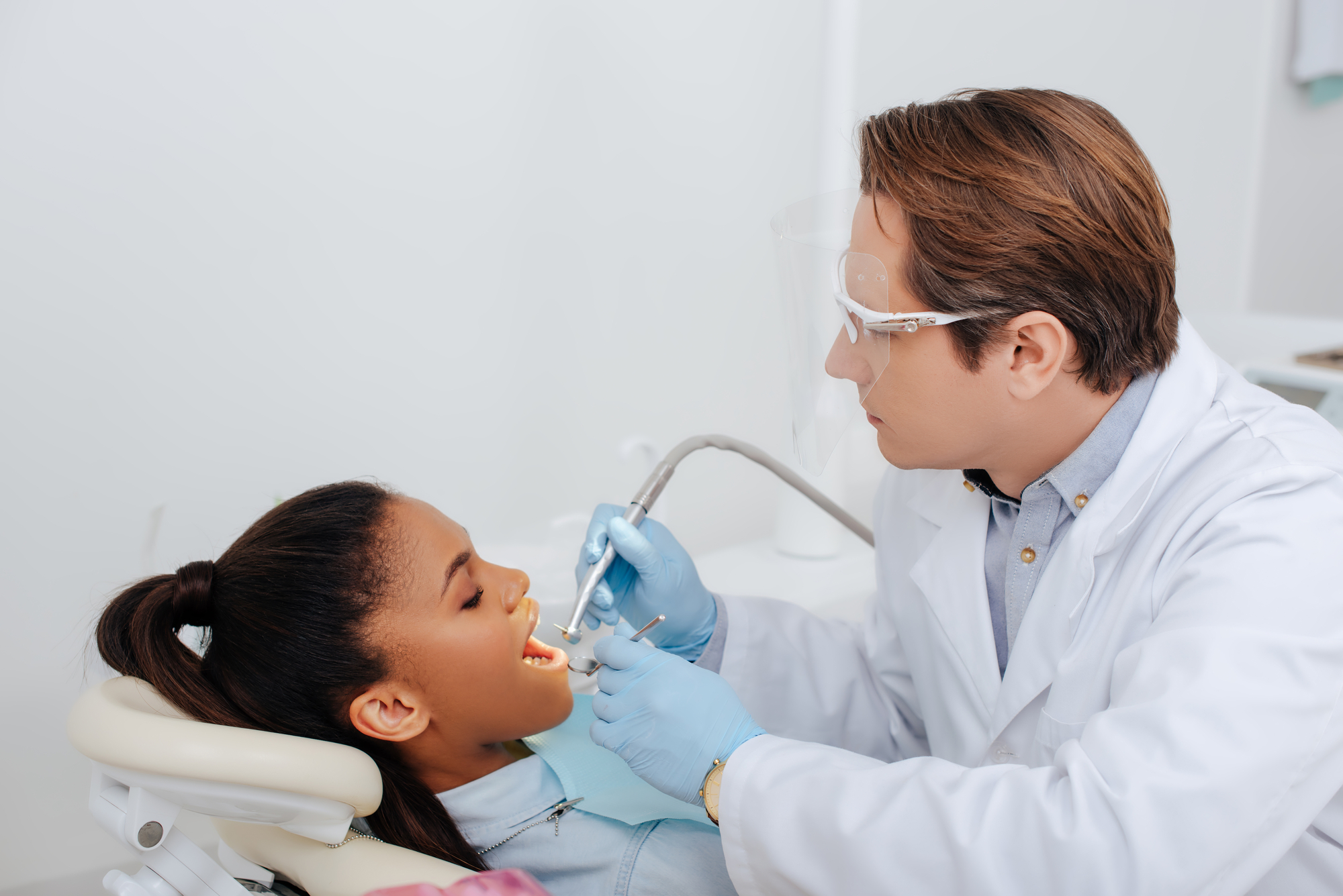 If you just moved to the area, you may be looking for a dentist in Hollywood, CA. However, with so many dentists out there, you might not know where to start. If you know what qualities to look for, your search will be easier.
Here are a few important qualities to look for in a dentist.
Honest
Honesty is one of the most important qualities you should look for in a dentist. Your dentist should tell you the entire truth about your oral health and only recommend treatments that you truly need. If the dentist is very pushy about locking you into a treatment plan or sounds like he or she is reading from a script, it may be time to go elsewhere.
Empathetic
Going to the dentist can be scary for some people. They may be afraid of feeling pain. That is why it is so important to choose a dentist who is empathetic. He or she should understand that some patients suffer from dental anxiety and do everything possible to relax them. For example, your dentist may offer you laughing gas to relieve your anxiety.
Communicative
If you know exactly what is happening during each dental procedure, you may feel less anxious. As such, the dentist you see should be able to clearly explain each procedure in a language that you can understand. If something isn't clear, don't hesitate to ask for clarification.
Hollywood's #1 Rated Cosmetic Dentist
Respectful of Your Time
If you're like many people, you lead a busy life and need to see your dentist in Hollywood, CA on time. While dentists can sometimes get busy with other appointments, this shouldn't be a regular occurrence. Your dentist should be respectful of your time.
Personable 
Even if a dentist is highly trained and experienced, you might not feel comfortable expressing your concerns if he or she isn't personable. The dentist you go to should be friendly and make you feel at ease. He or she should carefully listen to your concerns and make you feel important.
Patient
It is also important to select a dentist who is patient. The dentist you see needs to be very thorough and should not rush your appointment. He or she should also take the time to address all of your questions and concerns.
Hollywood Dentist Infographic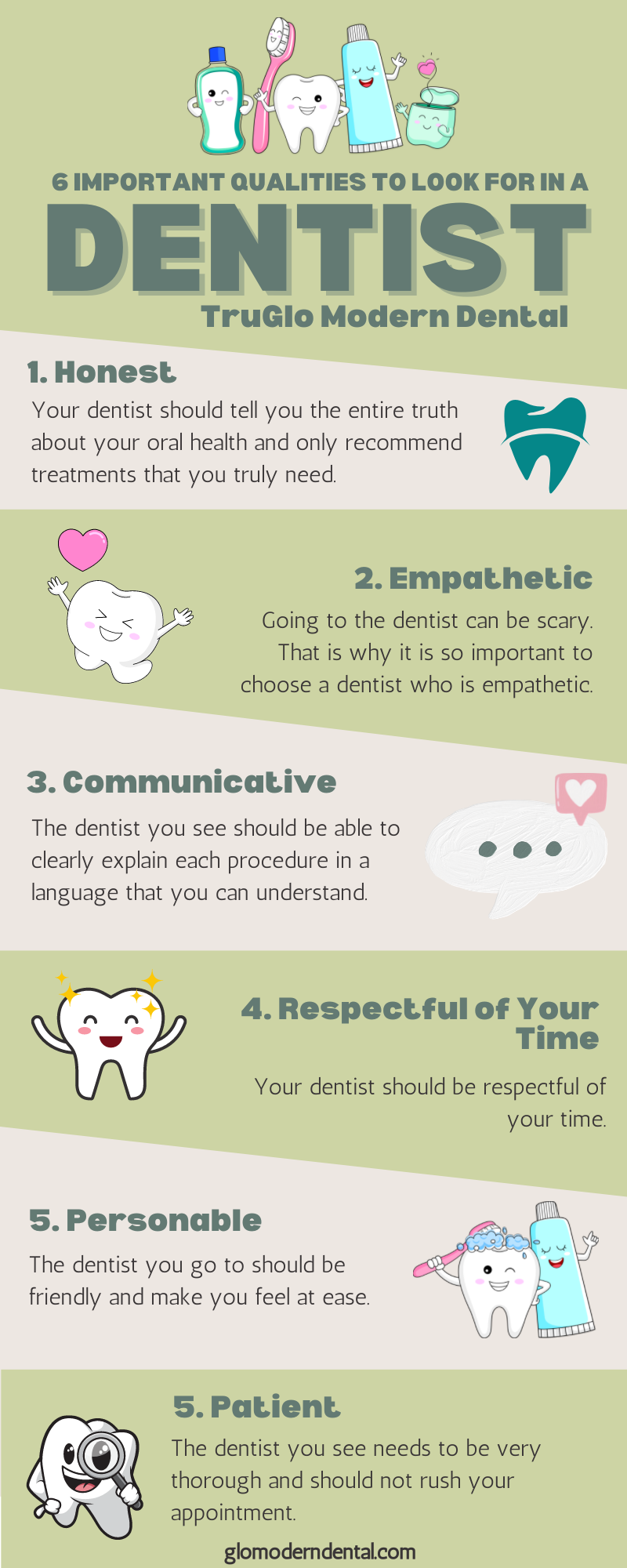 Cosmetic Dentistry
Through the use of advanced dental treatments and materials, the appearance of your teeth and smile can be made even better. With our combination of artistry and dental tools, we can keep you genuinely smiling. When you visit a dentist Hollywood, CA residents trust from TruGlo Modern Dental, we can perform an examination and let you know what your cosmetic dentistry plan may entail. Even small changes can help people feel more confident about their smile and it can boost their self-esteem, especially when socializing! 
Treatment Options For Discoloration
We offer in-office laser teeth whitening which is actually one of the most popular cosmetic dentistry treatments across the nation. If you want to wash away a stained smile, we can provide a safe, pain-free, and effective teeth whitening option for you. It is our goal to assist each patient so that they have a smile they are proud of. Many patients love teeth whitening because the results are noticeable right away. Don't be shy about contacting our friendly team about getting your appointment reserved for a discoloration treatment!
Teeth Straightening Without Metal Braces
Most people prefer to not have unsightly metal braces installed onto their teeth. It can cause anxiety, leave behind marks, and tend to be painful. Invisalign Smile Solution is a great way to correct misalignments and gently move teeth into proper placement. There is no need to force yourself into having metal braces, as there are clear braces available at an affordable cost that is much more comfortable. Before starting treatment, we can show you what your teeth will look like afterwards and let you know the duration of time required before you get there. By using generated images, you can get excited about what's to come! 
Feel Better About Your Smile
At TruGlo Modern Dentistry, we understand that a smile can make the difference between self-confidence and self-insecurity. If you have a smile that you hide from others because you are embarrassed to show them proudly, then it may be time to consider cosmetic dentistry. A Hollywood dentist from our clinic is happy to review with you your treatment options based on how you'd like to make changes to your smile. We know that initiating a dental process may feel overwhelming, but if you start now, the payoff will arrive just that much sooner!
Dental Care and Your Health
Many people underestimate just how impactful dental health is. Not only is it often intrinsically intertwined with someone's level of confidence, but it keeps our body healthy too. In fact, did you know that dental health and heart health are associated with each other? For example, periodontitis (gum disease) is linked to an increased risk of heart disease developing. So even if you don't need any cosmetic treatments specifically, it is still important to take care of your oral health by getting regular cleanings and check-ups throughout the year.
If you are ready to get your teeth cleaned, straightened, a check-up, or other treatment, please don't hesitate to contact a Hollywood dentist from TruGlo Modern Dental today!
Hollywood Dentist
7080 Hollywood Blvd Unit#808 Los Angeles CA 90028
Hollywood Dentist Google Review
"I love GLO! Dr Rhonda and her team are the best. Super professional, extremely competent, good at their job and warm at the same time. The space is also fantastic: clean, luminous, very technological. Every detail has been thought of, which I appreciate. I highly recommend GLO Modern Dentistry!" – Cristina F.
If it has been a while since your last checkup, schedule an appointment with a dentist in Hollywood, CA from Glo Modern Dental soon!